Buy direct and support local Italian wine makers with a focus on eco sustainability. By buying through our platform, you are eligible for exclusive Uncork Italy discounts and combined special packages that are not available anywhere else. Below is a description of our favourite Solatione wines and at the bottom, the form to fill out to buy them.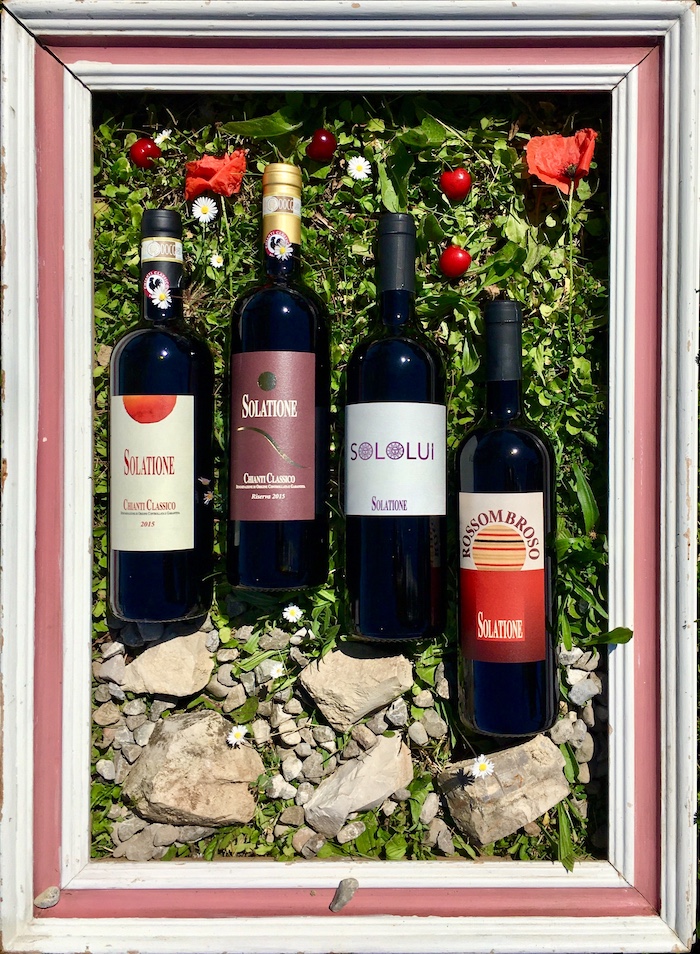 Uncork Italy Solatione Favorites
Solatione Chianti Classico DOCG year – Uncork Italy Price €17.00/bottle
85% Sangiovese, 5% Colorino and Canaiolo, 10% Merlot
7,000 bottles produced per year. A balanced, medium-body red with notes of red fruits, violets and spices. 18-24 months in 34hl Slavonian oak barrels. 6-12 months aged in the bottle.
Red fruits, violets and spices characterise the first of the Solatione wines. This is a fresh wine with balanced tannins and is best enjoyed with food, like most Chianti Classico wines! We suggest: meats, cheeses, and pasta dishes for this one.
*Scroll down to see our tasting video of this wine at the bottom of this page!
Chianti Classico Riserva DOCG year – Uncork Italy Price €32.00/bottle
90% Sangiovese, 10% Merlot, 13.5% alcohol
Only 2,600 bottles produced per year. Intense dark berries, vanilla, and plum. 18 months in small French oak barrels and 6-12 months aged in the bottle.
This wine has an intenser aroma than the regular Chianti Classico due to its ageing in the French oak barrels. It has more complexity and character and should be paired with heftier fare like aged cheeses or roasted, stewed meats and game.
Rossombroso IGT – Uncork Italy price €45.00/bottle
100% Merlot
Only 1,500 bottles produced per year. Ripe red fruits, jam, black current, spices. 16-18 months in small French oak barrels and 6 months aged in the bottle.
As it's a Merlot its much softer than the sangiovese grape in Chianti Classico so it can be enjoyed on its own or with food.
Solo Lui – Uncork Italy price €68.00/bottle
100% Sangiovese
Only 900 bottles produced per year (!). Wild violet aroma with a background of spices and some light toasted aromas Aged for 24 months in small French oak barrels and a minimum of 12 months in the bottle.
Another example of a Chianti Classico winery prizing their non-Chianti Classico wines! Perhaps simply for the stigma against Chianti Classico.
UNCORK ITALY SUGGESTED CASE
Solatione is offering a special discount on their wines for the following 12 bottle selection exclusively to Uncork Italy guests!
Uncork Italy Special (12 bottles): €460 wine total (instead of €486) + shipping
3 Bottles Chianti Classico
3 Bottles Chianti Classico Riserva
3 Bottles Rossombroso
3 Bottles Sololui
Shipping Options (Solatione)
Below are shipping costs additional to the cost of the wine. Every winery has its own shipping prices and change based on the winery.
Write us an email for prices if you would like more than 12 bottles or don't see your country listed.
| | | |
| --- | --- | --- |
| Country | 6 bottles | 12 bottles |
| Italy | €18 | €25 |
| Europe* | €35 | €45 |
| USA** | €70 | €100 |
| Canada | €80 | €140 |
| Ireland/Finland/Sweden/Greece | €45 | €65 |
| Australia/New Zealand | €116 | €180 |
| Hong Kong/Singapore | €116 | €180 |
Note: Shipping takes about 1 week in Europe and 2-3 weeks outside of Europe.
*Inquire for European prices for: Slovenia, Lithuania, Bulgaria, Romania, Hungary, Poland, Croatia
**Supplement of €30 for Alaska, Hawaii and Puertorico
***Insurance: To pay for insurance on the shipping of the wine, the price is an additional 2% of the value of the wine
Shipping Suggestion: Connect with your fellow wine loving friends and buying a few cases to be shipped together so you can save on the shipping price!
Payment Options
By filling out the form below you will be sending an email to Uncork Italy where we'll double check everything is good to go before sending it on to the winery which will be in touch to complete the purchase.
Solatione will send a link for how to pay by credit card. They accept, Visa, MasterCard, and Amex.
Purchasing Form
By using our platform you agree to the Terms & Conditions.
Questions?
Send us an email at uncorkitalynewsletter@gmail.com or text Lauren on the app "Whatsapp" at +39 334 203 6417 to communicate by text or set up a call.
Tasting Video of Solatione Chianti Classico