This Week…
This week we're celebrating why Italian wine goes best with Italian food as we pair a Solatione selection with Lauren's favourite ever Italian pasta (watch the video and you'll see what we mean!).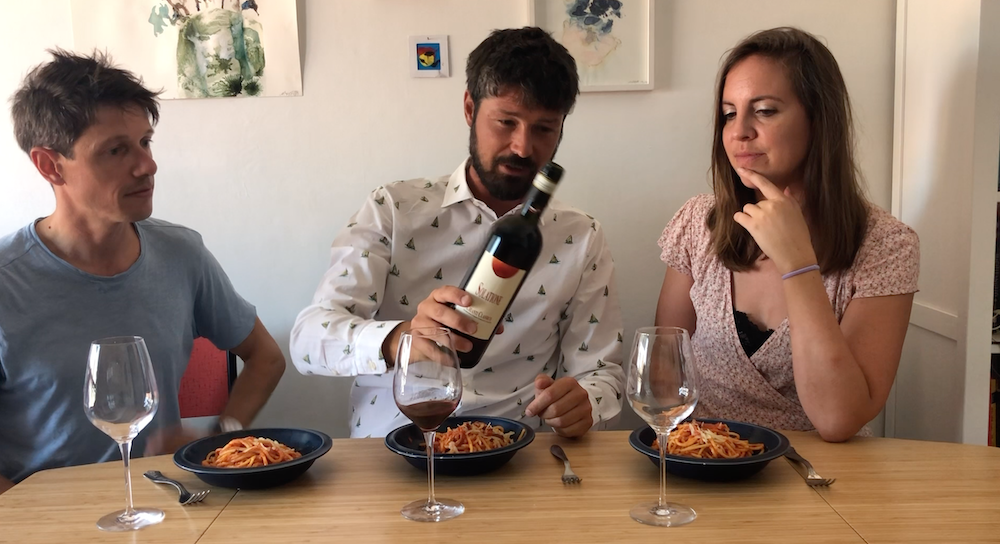 Video
In this week's video we taste one of Solatione's wines paired with a classic Italian dish (and Lauren loses her mind with happiness). Here's what's in the video:
Tasting the wine with an Italian dish!
Why 2015 is the most recent Solatione Vintage
Chianti Classico with American Food
Best foods to pair with Solatione Chianti Classico 2015
Full smell analysis
How the wine changes after you open it
As a newsletter subscriber you get access to these videos a month and a half in advance of YouTube subscribers!
Want more video content? Consider becoming a supporter on Patreon.
Buy Uncork Italy Wines
See our exclusive package deal of Solatione wines or buy our previously featured producer Fietri. Find out about our discounts and offers by clicking the button below!
Recipe Video Available to Patreon Subscribers
We're showing our thanks to those who support Uncork Italy on Patreon with some exclusive video "extras" like Luca's Amatriciana prep. But we also don't believe in keeping deliciousness from everyone else so we're still sharing the recipe in written form below so you can enjoy making this pasta from home 🙂
Luca's Amatriciana Recipe
Recipe for 4 people

Ingredients
canned tomato sauce pulp (can of 400g). We used "Mutti" (American shoppers: Check that your canned tomatoes are NOT salted)
Chopped Guanciale "bacon" (Substitute: Pancetta)
A few dried red chilli peppers
Pecorino (sheep's milk) cheese from Amatrice (Substitute: Any other type of medium-aged Pecorino, not the fresh one). About 150g
Large grain salt for salting the pasta water
Pasta! About 100g per person. The original recipe usually uses bucatini or rigatoni or mezze Maniche pasta. You want a pasta that holds the sauce and that can capture the little pieces of guanciale inside!
Some white wine for cooking
Instructions
Pre-cooking Prep

Measure out your pasta (100g per person)
Put your pasta water on to boil, adding a palmful of salt once it is boiling
If not pre-chopped, chop up your guanciale in little bits
Grate pecorino cheese into a bowl and set aside

Fry the chopped up Guanciale in a pan until crispy, adding the red pepper after a few minutes
Pour in a tiny bit of dry white wine until the alcohol evaporates
Remove guanciale from the pan and set aside. Leave all that oil in the pan because you're about to….
Pour a can of tomato sauce into the oily fat and let it simmer over a low flame.
Simultaneously, cook pasta in the boiling water.
Add a few spoonfuls of the pasta water to the simmering tomato sauce (this helps it adhere together and it will stick better to the pasta later!)
When the pasta is cooked, drain the water and stir the pasta directly into the bowl of grated pecorino cheese! Tip: Keep a little grated cheese aside so you can sprinkle it over the top and make sure the cheese is coating all the pasta.
Stir crispy guanciale back into the tomatoes sauce.
Stir cheese-coated pasta into the tomato sauce.
Serve with a few shreds of pecorino cheese on top.
Pair with a Solatione wine and Buon appetito!
Wine Word of the Week
Abbinamento – pairing
"L'abbinamento perfetto per il chianti classico è una pasta con sugo di carne!"
The perfect pairing for a chianti Classico is a pasta with meat sauce!
Book a Tasting!
We do virtual and in person wine tastings for those interested in getting to know a little bit more about what's in your glass! You can do the tasting with the Uncork Italy wine you've bought or with your own wine.
Write us at uncorkitalynewsletter@gmail.com for more information.
Next week!
We're introducing you to our third and final Chianti Classico producer – a young woman who has taken on the family wine business and is going to teach Lauren a little bit about how to do "green pruning."

Forward to a friend
If you're enjoying Uncork Italy, consider forwarding this newsletter on to a friend who might also be interested in learning more about Italian wine!
Let us know what you think at uncorkitalynewsletter@gmail.com
A Special thanks to our Patreon Supporters
A sincere and grateful GRAZIE to those of you who are contributing to our project on Patreon. To thank you for helping keep us going, you'll have access to additional videos and content as well as discounts on private wine tours and tastings
---
If you're enjoying Uncork Italy, consider making a monthly donation to the project as low as €3 a month.