This Week…
This week we're heading to a new wine region and leaving Sangiovese behind to bring you the Super Tuscans of Bolgheri and meet a young winemaker in the heart of this new wine territory.
Watch the Video
Luca chats with Matteo in the vineyard of Imperiale about the origins of Bolgheri and what makes the microclimate there so good for growing French-style wines in Tuscany.
"Imperiale? That's us?
A few months ago, Luca and I set out with a quest: to find Imperiale winery. Amongst big wineries in Bolgheri, you find places like Sassicaia where you can't even make a reservation, Argentiera where it's €120 per person to be taken to their "temple of wine" on top of the hill but we'd been following Matteo on Instagram and he seemed approachable.

Now we just couldn't find the winery.

GPS told us it was down a road that seemed to be leading into nothing but vineyards and tomato plants. "This can't be it," Luca said. "The phone says it's around this corner," I replied, "but I just see a house." No big azienda. No wine shop with cute wine barrel tables out front. Just two guys in shorts and rubber flip flops sitting in plastic chairs in the sun with a dog at their feet. It was a scene out of a western. We called out the window, "Hey, we're looking for Imperiale!"

After a pause, one of them raised his hand and said "Si, Siam noi." Yep, that's us.

We pulled up some plastic chairs and told them about Uncork Italy and they told us a little about Imperiale and we knew we'd found the right people to represent a region that's all about leaving behind tradition and making something new.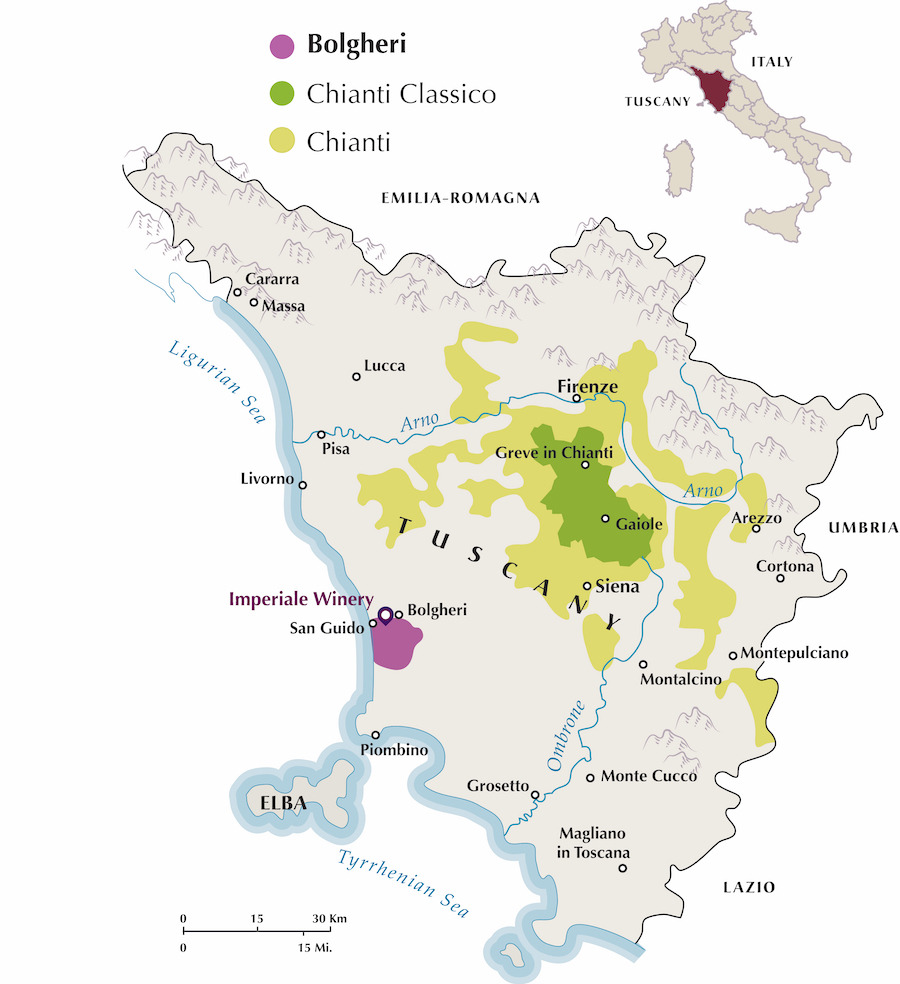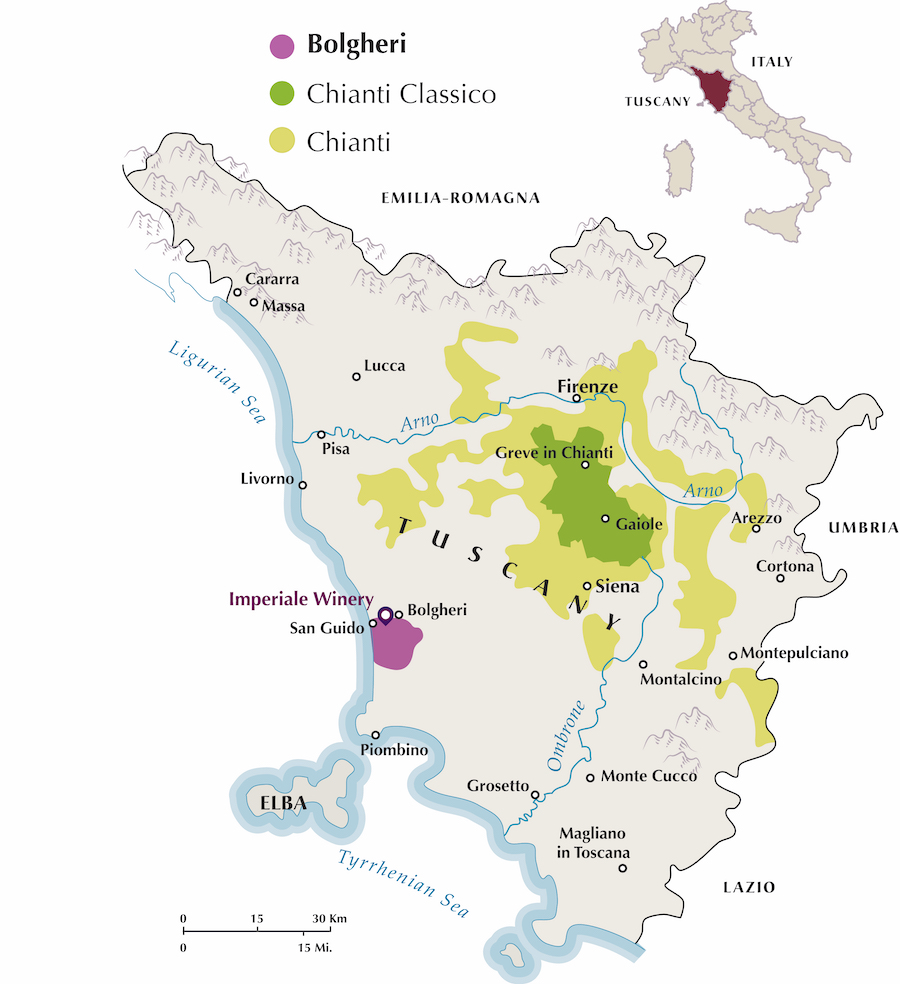 Bolgheri and the Super Tuscans
Tuscany… the land of centuries old wine traditions. Chianti Classico, Montepulciano, Montalcino and… that kinda swampy, coastal area of flat plains and mosquitos to the west. This was the "Bolgheri area" also known as the Maremma (Bolgheri is just one town in the centre) until Mario Incisa della Rocchetta started planting French grape varieties in the 1960s and discovered they grew incredibly well here.
Since these wines didn't follow any of the traditional rules, they couldn't receive the DOC or DOCG labels (we talked about these in week 4).
However the wine became so popular and internationally successful that in 1995, Bolgheri became a DOC all on its own. In fact, Matteo's father was one of the original six producers that created and were included in the Bolgheri DOC which now includes about 70 winemakers.
Now the term "Super Tuscan" refers to French grape blends that are being grown all over Tuscany and sold for higher prices than the traditional wines like Chianti Classico. Some of the most famous are Sassicaia, Ornellaia, Guado al Tasso.
These wines are made with Cabernet Sauvignon, Cabernet Franc, Merlot and Petit Verdot. They are crowd pleasing wines with rich fruit notes, rounded body and balanced tannins.
For Lauren's full article on the history of Bolgheri, become a supporter on Patreon!
Wine Word of the Week
"In purezza" means "pure" as in 100%
Imperiale fa un Cabernet Sauvignon in purezza.
Imperiale makes a 100% Cabernet Sauvignon.
Next Week…
Matteo shows us the "Scogliamento del Grappolo" which would translate to, "the disentangling of the bunch" – a technique used to ensure the grapes grow perfectly, and one of the last things to do in the vineyard before the harvest.